Wedding Flowers
Each wedding is made to reflect your style and ideas!
Call us for your consultation!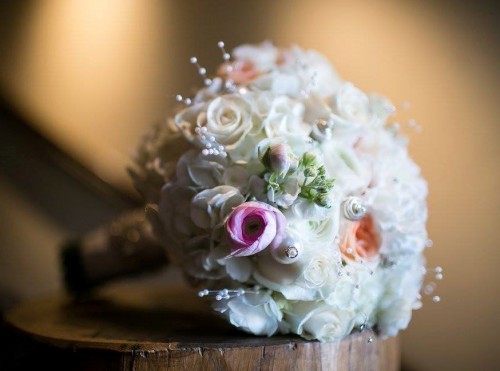 Make D'ee Angelic Rose Florist your first choice for premium fresh flowers and upscale design artistry for your dream wedding and all your special occasions!
We love meeting with the bride to be, and when we do, we see a fabulous opportunity to tell a love story that really comes alive. From color-coordinated wedding party dresses and ties, to wonderful table linens and place settings, color is everywhere! Yet the most important and exceptional use of color in weddings, and often the most memorable, are your wedding flowers. Whether arranged in monochromatic tones, soft complimentary hues, or striking bright contrast colors, wedding flowers allow the bride and groom to celebrate their uniqueness and express their love with one of nature's most beautiful gifts.
Each wedding we do is custom-designed with you in mind!
At D'ee Angelic Rose Florist, we go the extra mile to ensure your flowers are more than a memory. Our wedding consultants can offer lots of beautiful style suggestions in an effort to create the overall look you hope to achieve.
Ask about wedding floral packages that can include:
the bridal bouquet ~ attendants' bouquets ~ corsages & boutonnieres ~ ceremony arrangements ~ candelabra flowers ~ pew markers ~ floral & foliage garlands ~ table centerpieces ~ flowers for cake tables ~ topiaries ~ arches & entryways, etc.
Pick a bouquet that's just right for you!
With our talent, training and experience, we will bring your special day to life... with classic traditional bouquets, or more modern cutting-edge styles in bridal and wedding flowers.
We can create a personalized look by adding embellishments to your bouquet and bouquet handle with sparkling touches or accents like heirloom jewelry, brooches, pearls, berries, butterflies, decorative colored wire, rhinestones, ribbon, burlap, lace, tulle, peacock feathers and almost anything else.
We would love to make all your special days, extra special!
For your convenience, our shop offers the following special event services:
Wedding and Party Consultations
On-site Holiday & Party Decorating for Homes or Businesses
Corporate Event Planning & Designing for Functions
Wedding & Party Rentals
Wedding flowers are much more than just an accessory to your big day.
Wedding flowers are something you will remember for a lifetime. These are the flowers that will always trigger special memories of the day you shared, so it's important to pick something perfectly you. Just as important is choosing the right florist and D'ee Angelic Rose Florist is ready to help you! Call us in advance at (970) 691-2881 to schedule a consultation. We'd love to help you start planning your dream wedding or your next successful event.
We want to provide you with flowers that are as beautifully unforgettable as your wedding day memories will be. Call D'ee Angelic Rose Florist today!